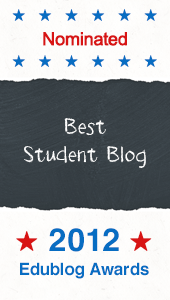 Yesterday I talked about the importance of creating lists of plans and objectives to achieve for next year. I particularly focused on the organizational part of it and how effective planning can keep us on focus and enhance our goal orientation.It is not important that we achieve everything we plan for because perfection does not exist but it is fundamentally crucial that we try. In other words, the process matters more than the end results. When we try and fail in the first instance then we,at least , have an idea of what it takes to achieve whatever we are planning to achieve and it is more likely that we can get it in our second trial . As teachers and educators, this is the philosophy that ( should ) undelry(ies) our work. Aren't we life-long learners after all ?
I also talked about blogging and I urged those of you who still do not have a blog for their class to try and set one up. If you want some ideas of how other teachers are using their blogs I would recommend that you read
The Top Teacher Blogs of 2012
. You can also urge your students to tap into the educational power of blogging in their learning. We have a list for you of the finalists for the top student blog for the year 2012. Check them out and share with your students. Give them some source of inspiration and help them start their blogging experience. If you do not know how then please keep
this Blogging Guide
with you. It will definitely buttress your efforts in creating and publishing a classroom blog.