Within Just a year and a half iPad has successed in establishing itself as a strong learning and teaching tool.This is mainly due to Apple's ingenuity in staffing their tablet with some of the best specs and apps that are of great relevance to educators.




As you might have noticed here in
Educational Technology and Mobile Learning
, we , often times , provide you with posts containing reviews of
iPad educational apps
,
resources and guides on how teachers can use this tablet in their classroom
and we will definitely continue to do so .
For today's post I am sharing with you a great work realized out of a partnership between TeachThought and Edudemic. They have produced a great visual that " functions as a kind of spectrum moving left to right, from passive consumption to more active collaboration, to original producation. Each activity or task is also paired with suggested app in bold, though other apps could fill the roles shown.|
As you can see below this visual is entitled The Teacher's iPad Spectrum , and to make it easier for those of you who have blogs or websites and want to share it, I turned the visual into infographic and included the embed code below . Enjoy.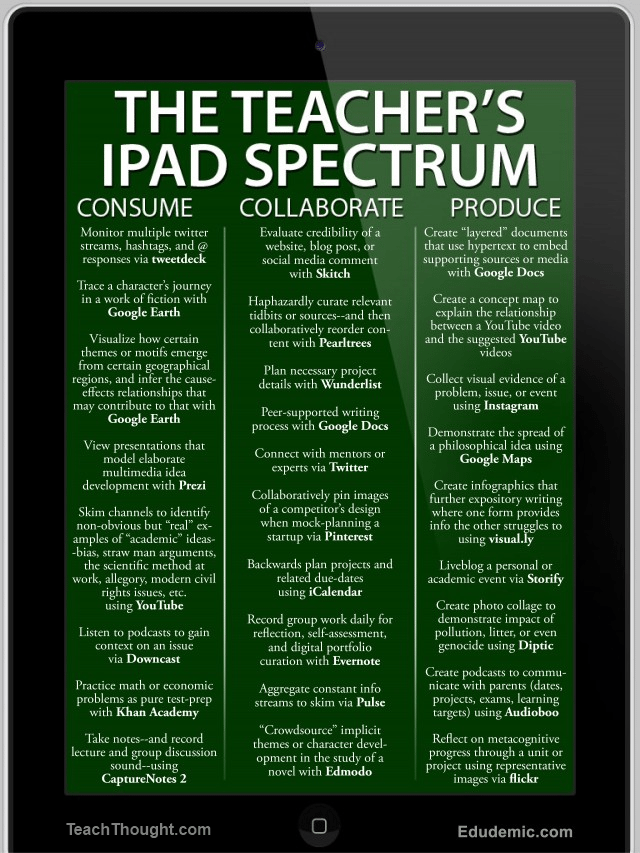 [Source:
Teach Tought
] and Edudemic
Use the code below to embed this infographic in your blog or website


<a href="http://www.teachthought.com/wp-content/uploads/2012/08/ipad-cognitive-spectrum.png"><img alt="Teacher's iPad Spectrum" border="0" src="http://www.teachthought.com/wp-content/uploads/2012/08/ipad-cognitive-spectrum.png" width="680" /></a>
[Source: <a href="http://www.teachthought.com/technology/25-ways-to-use-the-ipad-in-the-classroom-by-complexity/">Teach Tought </a>] and <a href="http://www.edudemic.com/"> Edudemic </a>